Tue, 04/27/2021 - 14:43
Drums, cones, tubular markers, vertical panels and barricades are all channelizing devices used on and around roadways during construction, maintenance and utility projects. The Highway Construction Experts at Robson Forensic are often tasked with determining whether or not a project's Temporary Traffic Control zone was proper or in violation of the standards, and whether an improper TTC zone was causative to incidents such as vehicle collisions and pedestrians/workers being struck.
THE STANDARD OF CARE FOR CONSTRUCTION DRUM USE
Temporary changes to the normal and expected travel paths of vehicles are often required during roadway construction projects. Delineation of the new travel path through the TTC zone is accomplished with pavement markings and channelization devices, such as drums. An option available for further advance visibility of the drums, especially at night, is to add warning lights to the tops of the drums (as shown in the figure below). To supplement the typical pavement markings (lines on the roadway), properly placed construction drums help to further alert and guide drivers through lane shifts and past construction equipment and workers, all while separating the users from hazards that can exist in a work zone.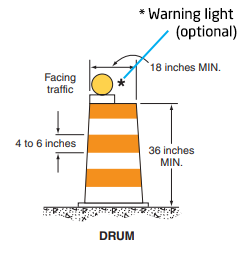 Temporary construction signage in advance of and throughout the work zone, in combination with proper placement and use of drums, provides for reasonably safe and efficient travel through a work zone. Drums create a visible physical presence to guide traffic away from the work space, pavement drop offs, pedestrian or shared use paths, and separate vehicles from opposing directions of traffic. 
Choosing the proper channelization in the TTC zone is a critical element in achieving the desired level of safety for both the workers and the motoring public. Improper use, or use of the wrong channelization element can result in vehicles entering the work space and striking workers or equipment, or in vehicles striking hazards such as drop-offs, fixed objects, or opposing traffic.
Selection of the proper channelization method is dependent on many factors, including:
Roadway geometry
Travel speeds
Construction encroachment onto the roadway
Traffic phasing
The location/length of the work zone with respect to the roadway
The applicable specifications and/or standards for your particular project
A Traffic Control Plan (TCP) designed by engineers to address a project's specific nuances or complexities is many times included as part of construction contracts. These plans and accompanying specifications will identify the TTC devices, layout, and phasing, for example, to be used during construction, including what type of channelization device to use, and where to use them. Failing to follow TCPs or standard traffic control drawings, and/or having an improper TTC zone can result in an unreasonably dangerous condition that may become the cause of a harmful event or events.
---
Recommended Links
Thomas Lyden is a civil engineer with an impressive 35 year background covering the entire lifecycle of highway infrastructure. As both a consulting engineer as well as a Department of Transportation engineer, he has conducted traffic studies, conceptually designed roadways and intersections, administered new construction and maintenance projects, and oversaw maintenance operations.
---
Comments (0)